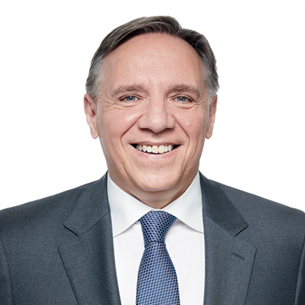 Premier François Legault - Québec
François Legault est né à Sainte-Anne-de-Bellevue le 26 mai 1957. Il est marié et père de deux enfants. Il détient un baccalauréat en administration des affaires (comptabilité publique) et une maîtrise en administration des affaires (MBA en finances) de HEC Montréal. Il est Fellow de l'Ordre des comptables agréés du Québec.
François Legault amorce sa carrière comme vérificateur et chef d'équipe chez Ernst & Young de 1978 à 1984, puis est nommé directeur des finances et de l'administration de Nationair Canada en 1984.
En 1985, il devient directeur du marketing de Québecair, puis cofonde Air Transat en 1986. Il en sera le PDG jusqu'en 1997.
Lors de son passage en politique de 1998 à 2009, M. Legault a occupé plusieurs fonctions importantes dans le gouvernement québécois, dont celles de ministre de l'Éducation et de ministre de la Santé et des Services sociaux.
Le 14 novembre 2011, François Legault fonde un nouveau parti, la Coalition avenir Québec, dont il est le chef.
Legault sera ensuite élu député de la circonscription de L'Assomption aux élections générales de 2012 et de 2014. En octobre 2018, il est réélu et devient premier ministre du Québec, son parti ayant obtenu la majorité des votes.
-------------
François Legault was born in Sainte-Anne-de-Bellevue on May 26, 1957. He is married and has two children. He holds a Bachelor of Business Administration (Public Accountancy) and a Master of Business Administration (MBA in Finance) from HEC Montréal. He is a Fellow of the Ordre des comptables agréés du Québec.
François Legault began his career as an auditor and team leader at Ernst & Young from 1978 to 1984, before being appointed director of finance and administration at Nationair Canada in 1984.
In 1985, he became marketing director for Québecair. A year later, he cofounded Air Transat and served as its CEO until 1997.
Mr. Legault went into politics from 1998 to 2009, where he held several important offices in the Government of Québec, including Minister of Education and Minister of Health and Social Services.
On November 14, 2011, François Legault founded a new party, Coalition Avenir Québec, which he also leads.
Mr. Legault was elected MNA for the L'Assomption riding in the 2012 and 2014 general elections. In October 2018, he was re-elected and became Premier of Québec when his party obtained the majority of votes.